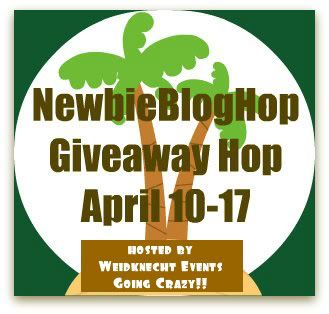 The Newbie Bloggers have arrived and we're bringing you a giveaway hop!! We've gathered up over 100 blogs (Newbies and those AWESOME bloggers who LOVE Newbies) and we all have a giveaway of at least $15 for you!!
When you're a Newbie Blogger, one of the most important things you can do is connect with other great bloggers who want to help and are willing to share their tips and tricks. The Newbie Blog Hop started so that we could connect with other Newbies and learn together!!
If you are a Newbie Blogger - or you "feel" new - come join us!!
Lovable Labels
are so cool. What are they you ask? You mean you haven't heard of them? Lovable Labels are personalized and durable labels. They are waterproof, dishwasher and microwave safe, washer and dryer safe, sun safe, bleach safe, sunscreen safe and temperature safe. Cool right? So when you put a label on your child's lunchbox or backpack they won't fall off. I hate that!
Why
Lovable Labels
? How many times have you sent your child to school with their coat, lunch box and backpack and when they come home they are missing something? My kids constantly come home and say "Huh... I wonder what I did with my lunch box/coat". Ugh. And then when we go to school looking for them we can't find them. Typically it's because another student took it home thinking it was theirs. No longer!
Lovable Labels was gracious enough to send us a
Camp Pack
with my daughter's name on them. We put them on her backpack, lunch box (all of them!) and her school supplies. We even put them in her shoes! She loves them! And the Camp pack is perfect. It has some of everything in there!
Lovable Labels was wonderful enough to offer to give the winner of this giveaway a Camp Pack as well! That's a $44.95 value! It will include: 15 sticker labels, 40 Slimline Labels, 12 shoe labels, 72 press and stick clothing DOTS, 2 mini metal tags and 12 square labels. YEAH!
And that's not all!
Rooster Fin
is a company that makes
family friendly games
. We're all about games in my house so I was pleased as punch when the President of the company contacted me about doing a review and giveaway of one of their games. My kids and I chose PongCano to review and what fun it was!
Rooster Fin has two games out right now, PongCano and Shufflin' Feet. It was hard to chose which one we wanted. But we went with PongCano. It's a fun game that's hard to play (because I'm not super coordinated) but it didn't matter. We had a blast. Even my 7 year old daughter giggled up a storm. The task is simple - get the ball into the volcano. But lots of things appear simple =o) My son totally rules at this game.
Rooster Fin
has a new game being developed right now. It's called Masheroo! and it looks like a great one. The object - to match shapes and face cards to a pattern card. But be ready for the unexpected, the master bolt can mash shapes leaving no choice but to rebuild. It's a mash or be mashed game that sounds like a ton of fun! You can check out a preview of the game
here
.
Rooster Fin
was generous enough to offer a PongCano game to one of my lucky readers. Cool, right?!
So enter below for your chance to win a Lovable Labels Camp Pack
AND
a PongCano game! And don't forget to visit all the other blogs and enter their giveaways as well!
a Rafflecopter giveaway
This Giveaway ends 4/17/12 at 11:59pm EST. It is open to US/CAN and the winner must be 18 years old or older. I will contact the winner via email and the winner will have 48 hours to respond or a new winner will be drawn. Rafflecopter will randomly select the winner using
random.org
. No purchase necessary. This giveaway is NOT associated, sponsored nor endorsed by Facebook or Twitter. The information you enter is collected by Rafflecopter and viewed by me in order to facilitate this giveaway. Please see my [Privacy Policy](
http://goingcrazywannago.com/disclosure-policy/
) for more information. *Please note that
Making Memories With Your Kids
and the Newbie Blog Hop Giveaway Hop bloggers are not responsible for sponsors who do not fulfill their prizes. I have represented each sponsor with the expectation they will fulfill their prize and in a timely manner. We will contact the sponsor regarding your prize(s). The sponsors, in most cases, are shipping their items to you directly. We will make every effort to assist you in obtaining your prize. If there is an issue with a sponsor, please notify me within 30 days for assistance, after that I may be unable to assist you.